AVBS Modular Building Option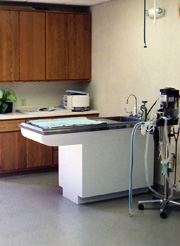 What are modular veterinary facilities?
Modular buildings are built in off-site factories and shipped to the construction site to be completed by local contractors. This modular option offers an excellent alternative to veterinarians who are looking for a quick, cost-effective, and hassle-free solution to their hospital facility needs. Back to Top
How it works:
Each wood frame first floor module is set on a field-constructed foundation. A mechanical and roof module is set on top of the hospital module. Several modules set side-by-side make up a new animal care facility. Module installation can be integrated into other on-site construction, such as masonry kennels and large animal areas, or additions to existing buildings. Prefabricated modules can provide an affordable alternative to conventional building expansion.

Above: Modular animal hospital units are factory constructed and shipped to the job site. Back to Top
The advantages of modular, prefabricated veterinary hospitals
A prefabricated veterinary hospital can be constructed in as little as a few weeks, although orders must be placed in advance. Although the manufacturing cost of a prefabricated hospital is roughly equal to that of using conventional methods, there is significant expense involved in shipping the building modules to the construction site. However, modular buildings have many other advantages. Because the veterinary clinic is immediately available for occupancy, the owner is saved the expense of applying for and paying interest on a construction loan. The owner no longer needs to worry about local labor or material shortages. The time schedule is not affected by weather or other regional changes. These costs must be evaluated for each project. Back to Top
How do local conditions affect modular construction?

AVBS will arrange architectural services from Knapp Schmidt Architects to help obtain local government zoning and site development permits as necessary, as well as obtaining required building permits.
The total price can be established when the schedule and location of a project is known. AVBS will arrange for the construction of local improvements, including building foundations, utilities, parking lots, etc. These costs will vary significantly by location. Back to Top
Green design and sustainable veterinary facilities
AVBS works to provide "green" sustainable modular veterinary and animal care facilities, which limit energy consumption and maximize energy production. The goal of sustainability is met by utilizing modern energy efficient technologies, customized design for local regional climate conditions, and LEED certified analysis. Back to Top
Modular building design options and sizes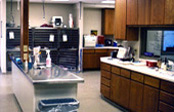 Our prefabricated veterinary hospitals come in several sizes, from one-exam-room to four-exam-room, and includes optional boarding kennel and large animal exam additions. The hospital is delivered to your site, furnished with high-quality veterinary equipment. All large pieces of equipment that a contractor normally would install, including exam tables, surgery tables, cages, and kennel runs will already be installed and ready for use when the building is delivered.
The modular veterinary hospital offered by AVBS is an excellent solution for veterinarians looking for a quick and low-stress alternative to conventional construction. Back to Top