AVBS Standard Plans for Conventional Construction
AVBS Business Narrative
by Mark J. Schmidt
My 24 years of experience in designing animal care facilities, including animal hospitals, shelters, and pet boarding facilities, has convinced me that there is a segment in this niche market that is not being served adequately. Too many Owners of smaller facilities tend not to use the services of design professionals with experience in the animal care business, because they cannot justify the expense. And even with the best design decisions, the construction process frequently compromises the best laid plans.
The AVBS floor plans were developed as the result of many years of design analysis. The AVBS cost control allows few changes of the interior dimensions, but every building can be given a distinct appearance. Exterior style and finish materials should be selected to meet the Owner's preferences and blend with the local community.

American Veterinary Building Systems (AVBS) is conceived to provide high quality animal care facilities at an economical level. This can be achieved by using standardized floor plans for specific facility needs. This can reduce both architectural, mechanical and electrical design fees. All AVBS projects will be managed by AVBS, which will help to insure that the specified materials and details will get installed.
AVBS as designers and managers will strive to provide the innovations necessary to provide sustainable, and 'green' building practices for the animal care industry.
Profit By Design
The AVBS concept is to provide a process for development that maximizes the chances for obtaining construction financing because it documents the likelihood of success in the new business. This is assured by adequate business planning, including market analysis.
AVBS Standard Plans
Current AVBS plans include 2, 3, and 4 exam room animal hospitals, pet boarding and grooming, and adoption and shelter facilities. Construction plans are available for conventional construction methods using local subcontractors. All AVBS plans are prepared with dimensions and structural systems that will allow building units to be fabricated off-site and shipped to the construction site for assembly.
Several veterinary hospitals have already been constructed using variations of AVBS standardized plans, including the Cherry Hill Animal Clinic in Westland, Michigan, and the Sherwood Animal Hospital in Sherwood, Wisconsin, below.
Cherry Hill Animal Clinic
This 3,200-square-foot, three-exam-room facility is of wood frame construction. The clinic has full medical hospital facilities. Notable design features of the building include a vaulted ceiling in the lobby and a drive-up delivery space.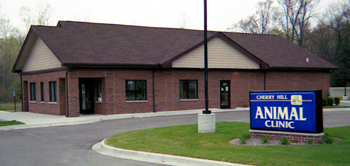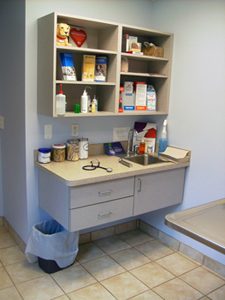 Sherwood Animal Hospital
The 3,700-square-foot, three-exam-room facility is of wood frame construction, with cement board siding and asphalt shingles. The clinic has full medical hospital facilities, including a separate dental treatment area. Grooming and boarding is also offered at the Sherwood Animal Hospital.